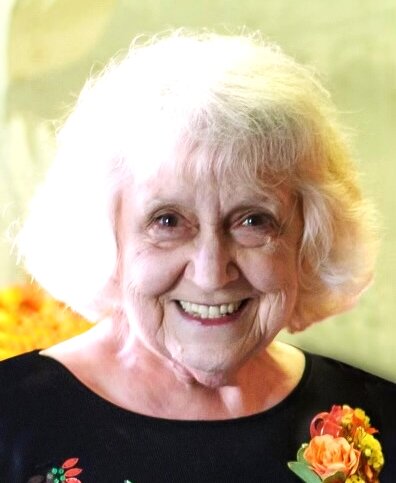 Obituary of Ann Theresa Hood
Ann Theresa (Sidoti) Hood
Rochester, NY 4/23/2022 at age 86.
You could find Ann in a crowd of a million because of how bright her light radiated to each and every person in her life. Ann believed we are all connected through the divine love we have within ourselves, and to access it we simply have to find and nurture our light within. While she is no longer physically with us, you can witness the sparkle of her endlessly bright light in each person she encountered in her 86 years on earth. To know her was to know that love can truly embody itself as a person, and she showed it every single day as a wife, daughter, mother, sister, grandmother, great-grandmother, aunt, and friend.
Her love remains on earth with her sons Stephen Hood (Paul) and Alan Hood (Jennifer), daughter Leslie Childs (Steve), granddaughters Allison Burchell (David), Holly Childs, and Kyrie Hood, great-grandchildren Cassian & Maia Burchell, and nieces Gloria Sidoti, Lorraine Krause (Charlie & Michael), & Vicki Mattscheck (Doug, Christopher, Kate & John).
Welcoming her with loving arms as she entered into spirit were her husband James Hood, son David Hood, father Henry Andrea Sidoti, mother Sophie Sidoti, sisters Jane Pell (Tony) and Gloria Sidoti, brother Michael Sidoti (Kate), niece Carol Sidoti, and great-granddaughter Evangeline Burchell.
Through her beautiful words of encouragement and empathetic spirit, Ann taught us all that love is not conditional. Love, like Ann, is an ever-present source of light within us all. We hope Ann's heartfelt words can shine a bit of her light on you: "Remember always that you are surrounded by so much love, and there is no stronger energy than that."
A private service will be held for family and close friends.
Donations in Ann's memory can be made to Unity Church's Daily Word Fund (https://shop.unity.org/donate_Daily_Word). Her love will live on for generations, and donations will help the messages that inspired her to do the same.


Open Door Policy

We provide our families with an open door policy. Please feel free to contact us 24 hours a day, seven days a week.

Rochester Location

1395 North Goodman St
Rochester, NY 14609

Phone: 585-872-1010
Fax: 585-467-2457

Webster Location

1295 Fairport Nine Mile Point Rd. Webster, NY 14580

Phone: 585-872-1010
Fax: 585-467-2457