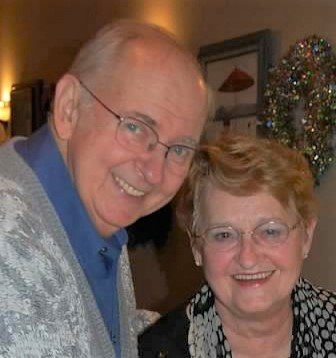 Obituary of David J. White
David J. White
September 18, 1933
Age 87
Predeceased in January 2021 by his wife of 62 years, Jean White, and his parents Joseph & Florence White.
Survived by his children; Denise (Kurt) Schaller, Diane Box, Sandra (Tom) Stewart, Joseph (Julie) White and Lisa (Bob) Sweeney; grandchildren Kyle Schaller, Daniel & Dylan Box, Haley, Donny & Corinne Stewart, Connor & Cambrie White, and Derek & Jillian Sweeney; sister Barbara (Brett) Baumlin; sister-in-law Treasure (Roger) Faircloth; nieces & nephews Scott Baumlin, Chris Baumlin of NY, Mitch Faircloth, Todd Faircloth, Marilee Runge, Jeff Smith & Kevin Smith all of NC.
Dave was born September 18, 1933, in Auburn, NY to Joseph and Florence White. Several years later, his sister Barbara arrived. Dave was very close to his sister and brother-in-law Brett Baumlin and shared many holidays, celebrations, and vacations together.
Dave graduated in 1950 from Auburn High School in Auburn New York.
In 1951, he joined the US Army and served in the Korean War. He was stationed in Japan and has had a love for Japan ever since.
After the war, he began working for General Electric, which had him traveling to North Carolina. This is where he met the love of his life.
In the spring of 1958, he met his wife of 62 years, Jeanie Allen. They were married December 27, 1958. Together they made their roots in upstate New York where they raised their children. (Denise, Diane, Sandy, Joe and Lisa)
Dave attended Alfred University and graduated (with much help from his wife) with a Bachelor's Degree in Electrical Engineering.
Dave lived his life devoted to his loving wife and supporting his family. He coached his son Joe in CYO Boys Basketball in Auburn, NY, and was involved in all his daughters sporting/dance/cheer events.
Dave worked for (the now known as) Xerox Corporation, and commuted to Rochester from Auburn daily. After several years of commuting, the family moved to the home in Macedon (West Walworth) in 1977.
Dave was brought up a man of strong faith. Dave and Jean instantly joined St. Mary's Catholic Church in Ontario, NY. They became quick friends with Monsignor Maney and Father Jack. They attended many church gatherings and events.
Dave had a love for sports, especially football. His son Joe joined Wayne Eagles Football, and he became the Head Coach and the Defensive Coach through the years. He was so proud of Joe's talent in football and being able to share his love of the game with him. He is also very proud of the year he brought the Wayne Eagles Football team to win the championship, and the players put him on their shoulders and carried him out on the field!
Dave continued his career with XEROX, traveling all over the globe, including Japan, England, and Brazil. He enjoyed traveling so much, all the family trips to North Carolina, and the occasional jaunt to Niagara Falls after church on Sunday.
Dave was also Past Commander of the American Legion Post 428 in Ontario. He was instrumental with forming a relationship with their "sister Post 428" out of Tweed, Canada. He really enjoyed his time as Commander of the Legion and buying popsicles for all the kids after the Memorial Day Parades.
Dave had several friendships he held close to his heart. His co-workers and travel buddies within Xerox. The Auburn Crew, "The Old Goats Club". And the very special neighborhood of Cream Ridge Road, "The Cream Ridge Riders".
But particularly his neighbor and best friend, Richard Giles has been there through thick and thin, good times and bad, and always made sure Dave was well fed with muffins!
He was very proud of his family, and referred to his kids as an open hand (5 fingers), but when we all come together, we make a fist. "When the five of you get together, you are stronger." He was also very proud of and felt incredibly blessed with 8 Grandchildren. Dave & Jean didn't miss a single birth!
He lived life full of books and wonder, and thought that one is never too old to learn. His special interests were airplanes, flying, and anything military. Dave and his daughter Lisa shared his interest in learning to fly airplanes. And together they took flying lessons out of Williamson Airport.
Dave was a family man. He loved telling the many stories of his childhood, parents and sister, Army days, and all the special moments with his kids and grandkids. But his favorite story to tell, that always put a twinkle in his eye, was the day he met his wife... cruising the streets in Winston-Salem, NC.
But please know that David, right up to his dying day, unconditionally loved his wife Jean, his children, grandchildren, extended family members and friends here on earth and in Heaven. And all he ever wanted was to provide the best for his tight-knit family.
Calling hours will be held Friday June 11th 5:30-7:30 pm and service June 12th 11 am both at Falvo Funeral Home 1295 Fairport Nine Mile Pt. Rd. (Rte. 250) Webster. Donations in lieu of flowers may be made to Western Wayne Ambulance Inc., West Walworth Fire Department or Lincoln Fire Department. Interment St. Joseph's Cemetery, Auburn, NY.


Share Your Memory of
David
Open Door Policy

We provide our families with an open door policy. Please feel free to contact us 24 hours a day, seven days a week.

Rochester Location

1395 North Goodman St
Rochester, NY 14609

Phone: 585-872-1010
Fax: 585-467-2457

Webster Location

1295 Fairport Nine Mile Point Rd. Webster, NY 14580

Phone: 585-872-1010
Fax: 585-467-2457