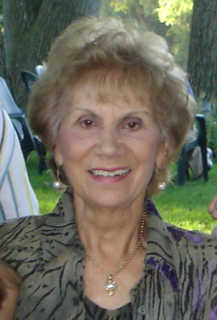 Obituary of Ann H Mazzarella
Webster - March 17, 2021, age 95. We are blessed and grateful that she graced our lives for so long.
Ann is predeceased by her beloved husband of 50 years, Ross Mazzarella; her parents, Joseph and Elvira Agnello and her three brothers: Nicholas, Emmanuel and Walter Agnello. She is survived by her loving children: Diana Mazzarella, Judy (Ken) Rohrer, Noreen Frank, and Jim Mazzarella; grandchildren: Brent (Cheryl), Lindsey (Andy), Chad, Jessica, Janelle, Amanda (Megan) and Ryan; great-grandchildren: Jackson, Nolan and Evan; siblings: Mary Martello, Jean MacArthur, Sylvia (Jim) Cappellino, sister-in-law, Fern Walker, god-daughter Gail Agnello, and many nieces, nephews, cousins and friends.
Ann (also known as "Annie") was a life-long native of the city she loved so dearly, Rochester, and was often lovingly referred to as the city's ambassador. She had a zest for life and always tried to live it to the fullest. She was well known for her love of dancing, laughing, cooking, socializing with family and friends, going to concerts at Charlotte, enjoying a good martini, and even played tennis into her 80's and bowled on a league into her 90's.
She was such a kind, caring, loving woman to all who knew her. Her energy, love of life, vitality, compassion and strong constitution were legendary among her family and friends. Her smile and her laugh were infectious, and her easy nature made her everyone's best friend. She gave her love freely and openly to everyone and she will be sorely missed by all.
The memorial service to honor this wonderful life will be held on Saturday, June 19, 2021 from 11:00 AM until Noon at White Haven Memorial Park in the All Seasons Chapel. White Haven is located at 210 Marsh Road, Pittsford, NY 14534. Flowers may be sent in Ann's name to White Haven for inclusion in the service. Following the service, the family invites you to a luncheon in Ann's honor at McArdle's on 1355 Fairport Rd., Fairport, NY 14450.
To send flowers to the family or plant a tree in memory of Ann Mazzarella, please visit Tribute Store
Service
11:00 am - 12:00 pm
Saturday, June 19, 2021
ALL SEASONS CHAPEL AT WHITE HAVEN MEMORIAL PARK
210 Marsh Road
Pittsford, New York, United States