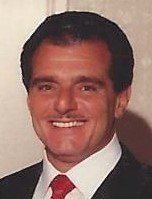 Obituary of Richard J. Mulla
Richard J. Mulla
Rochester: November 6,2020.
Predeceased by parents Sam and Eleanor. Survived by his son Peter (Mectio); grandchildren Mesan, Melan & Leandra; brothers Paul & Marty (Estelle) Mulla; several nieces & nephews; his very special friends Ron (Grace) Culiano and Tiffany. Tiffany was a special young woman (that was like a daughter) in Richard's life and they loved each other very much.
He suffered for a long time with many health issues, mainly COPD. He was a loving, affectionate, witty, generous, FUNNY and thoughtful man. He overcame many insurmountable battles. He was an amazing Athlete in his youth and was in charge of Recreation at Edgerton Park and beloved by many.

Rest in Heavenly Peace you earned it!
Services will be held at a later date.

To send flowers to the family or plant a tree in memory of Richard Mulla, please visit Tribute Store