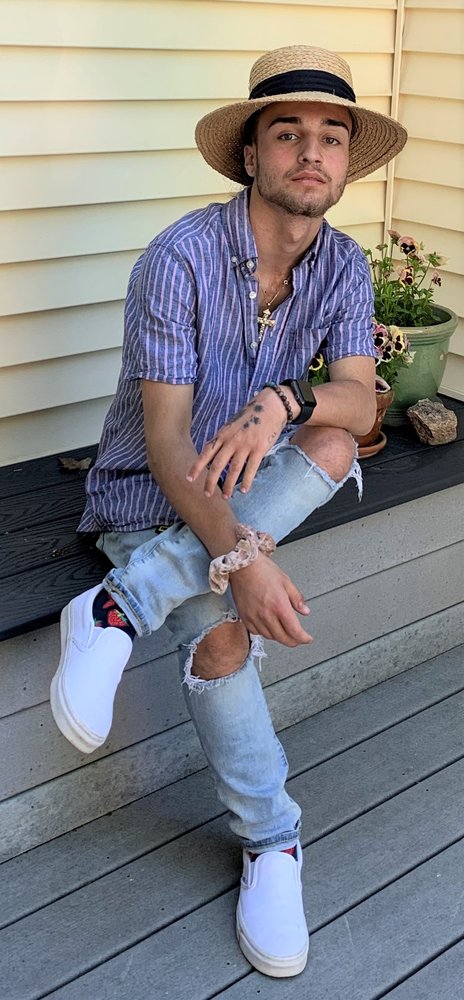 Share Your Memory of
Simon
Obituary of Simon E. Tirk
Simon E. Tirk
Irondequoit: September 3, 2020 at age 20

Preceded by his grandparents Aldo Dini and Nancy Dini. Survived by his parents Maria Valletta & Eric Tirk and his surrogate father Nick Valletta; brothers Nick Valletta & Josh (Emily) Valletta; niece Ellowyn Valletta; grandparents Patricia Tirk and Edward Tirk; many relatives and dear friends.

Simon was born with a severe heart condition and spent a lot of time at Strong Memorial Children's Hospital. When he was home and feeling well, he enjoyed sports and loved the Dallas Cowboys. He was on the Irondequoit little league baseball team for many years with his older brother as his coach. Simon attended St. John Neumann school from kindergarten through 6th grade. He loved and was loved by his family there of teachers and classmates His high school years were spent making many new friends at Eastridge high school where he also took culinary studies at E-MCC. Simon also played the drums and enjoyed horseback riding, swimming, going to the beach, shopping, and going to summer festivals around Rochester. He found great joy and pleasure in traveling and experiencing new and different things. He was a true entertainer, he loved music, dancing and singing. Simon was much deeper than just being a big personality, not only could he light up any room and be the life of any party, he also cared about other people's happiness. It only you took a second for you to fall in love with him. He genuinely wanted everyone to be happy. Since graduating high school Simon has been enjoying his health, all his many friends and close family who he loved dearly. He was very blessed and knew every day was a gift which is why he was always smiling and could always find something to laugh about and have a good time. Simon loved photography and was planning on embarking on a career in modeling. Simon had a deep love for animals and recently lost his beloved longtime friend and childhood puppy Pebbles.
Since Simon loved to help others and loved animals, he would greatly appreciate donations in lieu of flowers to Lollypop Farm.

A Service will be held Sunday, September 13th at 4pm at Calgary Chapel Center City 875 East Main St. Rochester, NY 14605 4th floor.