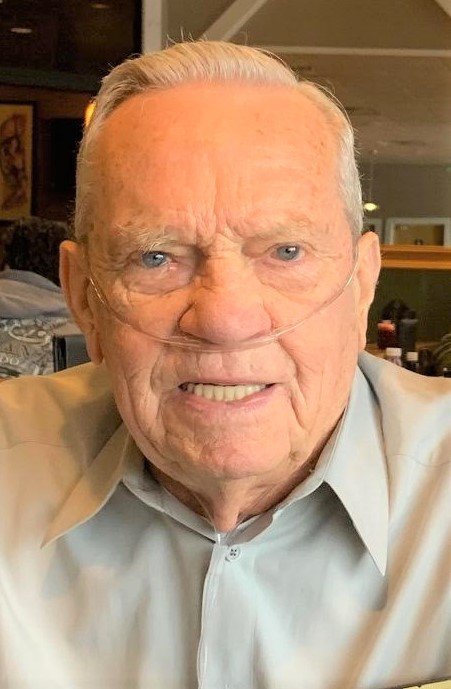 Obituary of William Floyd Smith
William (Bill) Smith of Penfield passed away at his home Saturday 7/25/20.
Bill is survived by his wife of 64 years, Dolores, his children Rene Rice and Bill Smith, grandchildren Chelsey Rice, Ryan Smith, Jeffry Rice, Kalen Smith, and sister Norma Mullison. Bill is predeceased by his sister Linda Gray and nieces Carrie and Denise.
Bill was employed at Xerox for 32 years until his retirement in 1996. He enjoyed meeting monthly for lunch with the lifelong friends he met while working at Xerox.
Bill was a Penfield volunteer fireman for over 15 years, attaining the rank of First Lieutenant. After his volunteer service, he continued to be an active member in the exempts. He looked forward to meeting with fellow exempts as often as he could at their weekly Friday morning breakfasts.
Dad was a loving and devoted husband, father, brother, grandfather, and a friend to all. Dad could strike up a conversation with anyone anywhere and was always willing to help and come to the aid of his family and friends. Family was of upmost importance to him and the only thing he asked for at any holiday or birthday was to have his family around him.
Dad loved the out of doors, he was an avid hunter, camper, boater, water skier, and snowmobiler. For many years he spent weekends and vacations at their camp on Tug Hill, four-wheeling in the summer and snowmobiling in the winter. Vacations were via truck and fifth-wheel RV and after retirement, he and his wife would travel to Florida and visit friends for the winter months. He cherished the memories of a snowmobiling trip to Wyoming with our mom, taken after retirement, as a reward for all their years of hard work.
Dad was heartbroken when after 64 years of marriage he was admitted to the hospital and it was the first time he was unable to spend it together with his wife. He was our mother's caretaker at home since she was diagnosed with dementia until he physically was unable to care for her with his most recent hospital admission.
As a family we are thankful he was doing what he loved and took pride in; mowing the lawn, he was at home and did not suffer.
We watched the movie 'Heaven is Real' and when it was over, he said "that happened to me". He said, during a previous hospital stay, I felt myself leave my body and it was the most peaceful feeling, I'm not afraid anymore.
We are comforted by the fact that we know he is at peace and we will see him again.
Calling hours will be held at Falvo Funeral Home Webster 8/7/20 from 4:00 – 7:00. The Memorial service with Mass will be held at St. Mary's of the Lake, Ontario, NY Saturday 8/8/20 at 10:30 with burial immediately following.
In lieu of flowers donations accepted at:
ABVI - Association of the Blind and Visually Impaired. https://www.goodwillfingerlakes.org/abvi/give-to-abvi/memorial-and-honorary-giving please note "designated for low vision"
WASPS - Webster Association of Senior Program Supporters that provide volunteer medical transportation services.