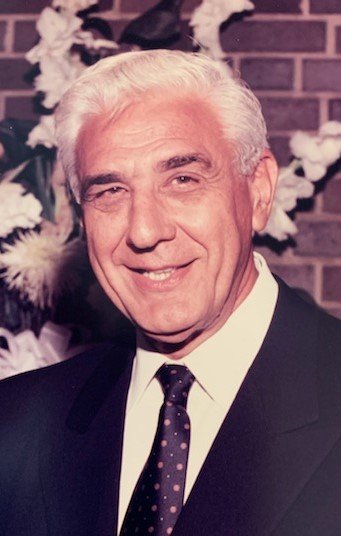 Service
11:00 am - 12:00 pm
Saturday, February 12, 2022
St. Louis Church
64 Main Street. South
Pittsford, New York, United States

Get Directions


Obituary of Vincent A. Tacci
UPDATED SERVICE INFORMATION BELOW
Vincent Anthony Tacci, DDS

Rochester - On March 15, 2020, the world lost a great man. Dr. Vincent Anthony Tacci (11/22/1928 - 03/15/2020) passed away with the grace, dignity, and comfort of being surrounded by his children and grandchildren. He was a beloved husband, father, grandfather, uncle, godfather, brother, friend and dentist. Born in Rochester, NY in 1928, to Ignazio and Anna Tacci, "Vince" attended Jefferson High School, the University of Rochester, and the University of Buffalo School of Dentistry.

After serving honorably in the United States Army, he returned to Rochester to practice dentistry, which he would do for over fifty years. Always carrying himself with a "quiet correctness", Dr. Tacci was one of those very few individuals who was able to achieve "greatness" through a simple, yet remarkable and unwavering goodness toward others. He was completely devoted to his family, and he was always present for his wife, children and grandchildren, supportive in everything they did. "Doc Tac" became the source of a countless number of indelible, happy memories for his family and friends. He was renowned as a gentle and compassionate dentist, who would go out of his way to assure the comfort of his patients, and tending to literally anyone in need. He was a genuinely warm and giving person, always putting the needs of others ahead of his own. Many wonderful individuals, too numerous to list, considered him to be one of their very best friends.

Sadly, he was predeceased in 1985 by his wife, childhood sweetheart, life partner and soulmate, Rita F. Tacci. He was also predeceased in 2014 by his spirited and ever-jovial son Carl J. Tacci, in 2006 by his brother Sam, and in 1999 by his brother Joe. He is survived by his daughter Joanne (Joe) Profetta, son James Anthony (Robyn) Tacci, and grandchildren Vincent (Alissa) Profetta, James Clark Tacci and Jacqueline Eve Tacci. He is also survived by his brother Carl (Linda) Tacci of Herndon, VA, numerous nieces and nephews, grand nieces and nephews, godchildren, and a second wife, Rita Buhite-Tacci.

In light of recent health concerns surrounding the COVID-19 coronavirus, and because Vince spent his life giving of himself to everyone, while at the same time never wanting to inconvenience anyone, his family knows that he would never want to put anyone in harm's way in order to attend his memorial service. Therefore, his immediate family will hold a private burial this week. A larger memorial mass and celebration of life will be held at a later date, with details to be announced at that time. In lieu of flowers, donations can be made to the University of Rochester Medical Center, "In memory of Vincent A. Tacci".
Originally delayed by the pandemic shutdown, the family of Dr. Vincent Tacci will hold a memorial service and celebration of life on Saturday, March 12, 2022 at 11:00 am at St. Louis Church, 64 S. Main Street, Pittsford, NY, immediately followed by lunch at Pane Vino Restaurant, 3400 Monroe Avenue, Pittsford, NY. For planning purposes, the restaurant has asked that those planning to attend lunch please email their number of attendees to VinceTacciMass@gmail.com no later than March 4, 2022.


Share Your Memory of
Vincent
Open Door Policy

We provide our families with an open door policy. Please feel free to contact us 24 hours a day, seven days a week.

Rochester Location

1395 North Goodman St
Rochester, NY 14609

Phone: 585-872-1010
Fax: 585-467-2457

Webster Location

1295 Fairport Nine Mile Point Rd. Webster, NY 14580

Phone: 585-872-1010
Fax: 585-467-2457