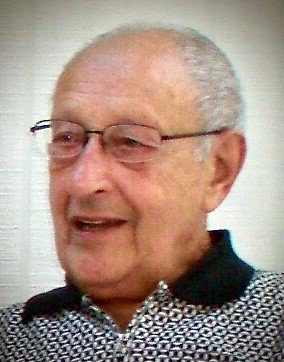 Obituary of Peter J. Geraci
Peter J. Geraci
Pittsford, NY 7/3/18 Survived by children Dean(Karen)Geraci, Elaine (Geraci) & Jack Mangione, special "Papa" to grandchildren: Jeffrey & Rachel, sister-in-law Rose Geraci, beloved nieces, nephews, cousins and friends. Predeceased by wife Marion (Antinarelli) Geraci, sisters, brothers & brother-in-laws, Anne(Joe)Giambrone, Gloria Geraci, Frank(Louise)Geraci, & Anthony Geraci.
Married in 1945 to high school sweetheart, Marion, Peter served his country in WWII in the European theatre. He graduated RIT School of Engineering, on the GI Bill and was employed by Eastman Kodak Co, where his notable work included lead design team for the Instamatic camera. Peter had a competitive spirit and excelled in sports: tennis, baseball, bowling and his passion, golf. A member of Penfield Country Club for many years, he continued to "play his age" well into his 80's in Marco Island, Fla. Described by many as the "consummate" gentleman, his grace and charm endeared him to all. Peter loved his family & always had time to offer love & support, wisdom & comfort. Please raise a glass of fine wine, (or Scotch) to this great man, as he will be missed, even after 97 years!
A Mass of Christian Burial will be held at Church of the Transfiguration , Sat 8/4/18 @ 10:00 AM. Memorial donations to NYS Veterans Home (Batavia, NY) or Honor Flight.