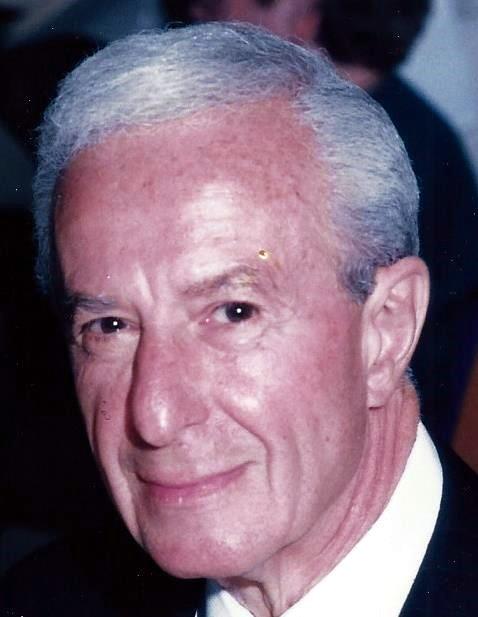 Obituary of Russell Gugino, DDS
Gugino, Russell C. D.D.S.
Irondequoit:
March 28, 2017.
Predeceased by his daughter, Marisa Lyn Gugino, parents, Anthony and Mary Gugino, brother, Vincent and sister, Florence (Sam) Gervaise.
Survived by his loving wife of 65 years, Jennie Gugino; children, Mary Jo (Joe) Colligan, Anthony (Patty) Gugino, Lisa (Tom) DelPlato, Roslyn Gugino, Dina (James) Vazzana; grandchildren, Jessica (Justin) Connolly, Jena Kelley, Anthony Gugino, Vincent (Roma) Giordano, Craig (Jenelle) Giordano, Analisa DelPlato, Melina DelPlato, Janessa (Vincent) Marcello, Lacey Colligan, Victoria Vazzana, James Vazzana Jr. and Russell Vazzana; 14 great-grandchildren; in-laws Loretto Antolini, Katherine (Eugene) Fellinger and Albert (Donna) Monile; several beloved nieces, nephews and godchildren; and countless comare's and compare's.
Originally from Fredonia, New York, Russ was a graduate of Fredonia High School where he began his love of music as the first trumpet player in the All High School Band. Upon graduating from High School Russ enlisted in the Army and served during WWII. After service he chose to further his education at the University of Buffalo, School of Dentistry. During that time he met and married the love of his life Jennie Antolini. In 1953 he came to Rochester to begin his Dental career where he lived out his passion of caring for thousands of patients throughout his 43 years in practice.
He actively contributed to numerous organizations including the Seventh District Dental Society, Past President of the Professional Men's Club, Founding member of the Apollonian Dental Study Club, Irondequiot Rotary member and recipient of their Paul Harris Award, Vincent Lombardi Lodge Sons of Italy, Italian-American Law Enforcement Officers (ITALEO) and the American Legion Irondequoit Post.
In addition to Russ's passion for dentistry and many volunteer service accomplishments, Russ personified the essence of being of true family man. He instilled the values of love, faith, respect and caring in his children, which they passed on to his grandchildren and great-grandchildren. He was a devout Catholic who prayed daily for every single loved one that had ever past. He loved music, especially Jazz, dancing, golfing, travelling and entertaining at his home. Dr. Russell C. Gugino was known for his sense of style and fashion. He thoroughly enjoyed shopping and was an impeccable dresser, whose hair was always well quaffed, even up until his final moments.
The Gugino Family would like to thank Dr. Eugene Zito, Lifetime Care, the Veterans Administration, The Leo Center for Caring, his private nurse Penny Smallman and Rochester General Hospital 5200 Unit staff for their love, compassion and care.
Calling hours will be held on Friday March, 31, 2017 from 4pm-8pm at Falvo Funeral Home, Webster, 1295 Fairport Nine Mile Point Rd. (Route 250).
On Saturday, April 1, 2017 please join the family at St. Ambrose Church, 25 Empire Blvd, Rochester, NY 14609 to celebrate Russ's wonderful life at 10AM Mass.
Entombment White Haven Memorial Park.
To honor Russ's life, and in lieu of flowers, contributions may be made to the Marisa Lyn Gugino Scholarship at Our Lady of Mercy HS, the Angels of Mercy organization or a charity of special importance to you.