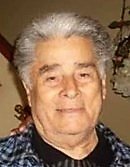 Obituary of Genaro Albarran Sr.
Genaro Albarran Sr.

Rochester - March 5, 2018. Predeceased by his daughters, Julie and Zulma. Survived by his wife, Gladys; sons, Genaro, Jr. (Delia), Jaime (Carol), Edwin (Sharon); daughters, Lily, Carmen (Robert) Orr, Sorylinda (Frank) Kuchar and Rosemary Albarran; sons-in-law, Joe Lomanto and Juan Capellian; many grandchildren; and great-grandchildren; brothers, sisters, nieces, nephews.

Calling hours Fri. 4-8 at Falvo Funeral Home, 1395 N. Goodman St. Funeral Service Saturday 10AM at St. Francis Cabrini at St. Michael's Church. Interment Holy Sepulchre.