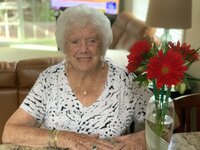 Dorothy M. Wilson-Ference
Age 97, passed away on Friday, March 3, 2023.

Dorothy (Dotti) was born in Clyde, NY, to Mary Louise and Michael Iocco on 8/25/1925. Dorothy graduated from Clyde HS in 1942 and went on to pursue a business degree at RBI in Rochester, NY. She and her husband Fred owned the Winfield Grill in Rochester.

Dorothy was a 40 plus year member of Penfield Country Club and served as past president of the woman's association. She was an avid golf and tennis player and loved to travel and spend time with family and friends. She was active in many organizations including Rochester General Hospital Chestnut Twig and the Italian Woman's Civic Club.

Dorothy is survived by her son, Craig (Veronique) Wilson; sister, Helen (Arthur) Lyman; daughter-in-Law, Laurie Tschudi; grandchildren, Deirdre (Nicholas) McDermott, Michael (Caila) Wilson, Cara (Drew Brock) Patton, Danielle (David Cook) Wilson, Erika (William Meaney) Wilson; great-grandchildren, Frederick, Padget, Parker, and Hunter; also many nieces, and nephews. She is preceded in death by husband, Fred Wilson and second husband, John Ference; daughter, Andrea Patton; parents, Mary Louise and Michael Iocco; brothers, Howard Iocco, Donald Iocco, Ray Iocco, Bob Iocco and sisters, Millie Hopkins, and Mary Marr.

Visitation will be held at Falvo Funeral Home, 1295 Fairport Nine Mile Point Rd, Webster NY, 14580 Tuesday, March 14th 4:00-7:00 PM. Funeral service will be held at St. Joseph's Church 43 Gebhardt Rd, Penfield NY 14526 Wednesday, March 15th 10:30 am. A private burial will follow at White Haven Memorial Park, Pittsford, NY. Memorial Donations may be made to Chestnut Twig, 1776 Jackson Rd, Penfield NY, 14526.