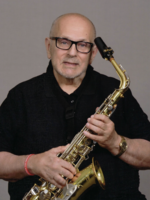 Gerald E. Gaudieri
Gerald "Jerry" Edward Gaudieri, 81 of Rochester, New York, passed into eternity on October 10, 2022, at Rochester Unity Hospital in Greece.
A memorial service will be held at his church of many years, First Bible Baptist Church, 990 Manitou Rd, Hilton, NY 14468, on Saturday, April 22, at 1pm with Pastor Mike Metzger.
Jerry was born in Rochester, New York to Albert & Mary Gaudieri on February 23, 1941. He graduated from Aquinas Institute of Rochester in 1959, and went on to enjoy a successful, and awarded career in investment planning and insurance with Prudential for many years before retiring.
He loved music, played the clarinet and saxophone in performances around the Rochester area over the years. Jerry's faith and his love for God, church, prayer, and people, motivated him to host a long-running and very attended bible study in his home. A long-time member of his church, he made many friends and inspired or encouraged people around him.
Jerry is survived by his sons Larry and John, his grandchildren and their spouses, Michael (Geena), Cindy (Trevor) of Florida, and his brother Richard (Dick), his wife Francis (Fran), of Webster New York.
He is predeceased by his mother and father, Mary and Albert, and his sister Linda.
"Here, there…or in the air"