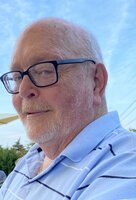 Charles L. Harrison
"Chip" "Gentle Giant"
March 3, 2023. Predeceased by his infant daughter, Kathleen. Survived by his wife of 54 years, Patricia; Sons, David (Brie) & Christian Harrison; Grandchildren, Clare & Nolan; his brother, Haydon Harrison along with many family and dear friends.
Calling hours Thursday 3-7pm at Falvo Funeral Home 1295 Fairport Nine Mile Pt. Rd. (Rte. 250) Webster. Please meet the family Friday in St. Joseph's Church at 12 Noon for the celebration of his Funeral Mass. In lieu of flowers, donations can be made to Foodlink or the charity of your choice. Interment St. Joseph's Cemetery.