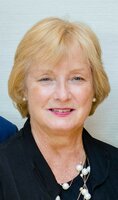 Susan Q. Cutaia
Susan Quinn Cutaia

Passed away on February 19, 2023 at the age of 72. She was predeceased by parents William and Arladene Quinn. She is survived by her husband Charles; sister Patricia (Mark) Brooks; brother William Quinn; stepchildren Katie and Kevin (Shana) Cutaia; granddaughters Ellis and Kendall Gruschow, Stella and Hadley Cutaia; niece Christy (Tim) Davlin; nephews Matthew (Corinne) Brooks and Will (Shannon) Quinn.

Raised in Webster, Susan attended SUNY Brockport for both her bachelor's and master's degrees. She dedicated her life to children. Sue taught for 39 years in the Rochester Catholic Schools, primarily at St. Margaret Mary's and St. Louis teaching fifth and sixth grades. She was an avid gardener, voracious reader, and constant knitter. She loved to spend time at her cottage in Cape Vincent.

Grandma Sue was adored by her grandchildren. Ever the elementary school teacher, she always had a fun activity planned for their visits. Ellis, Stella, Kendall and Hadley were the greatest joys of her life.

Calling hours will be held on Thursday from 3pm-7pm at Falvo Funeral Home 1295 Fairport Nine Mile Pt. Rd. Webster, N.Y. On Friday, please join the family at 10AM at St. Catherine of Siena, 6 Mendon Ionia Rd, Mendon, NY for a celebration of life. In lieu of flowers, gifts may be made to Advent House online at https://theadventhouse.org/fundraising/ or via check made out to Advent House and sent to Advent House, 1010 Moseley Road, Fairport, NY. 14450.