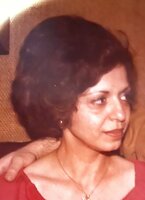 Theresa Karrat
Theresa A. Karrat
Irondequoit: November 20, 2022. Predeceased by her husband George F. Karrat and siblings, Rose Mary Flihan & F. Peter Flihan.
Survived by her son, George J. Karrat; Daughters, Diane R. (Joseph) Recchia & Christine (Jeffrey) Pastorella; Grandchildren, John & Michael (Jenn) Pastorella & Vinnie (Savannah) Giglio; 3 great-grandchildren, and brother, Anthony J. Flihan.
Theresa was a devoted wife, mother, and grandmother. She will be deeply missed.
No prior calling hours. Please meet the family on Monday, November 28, 2022, 10 am in St. Kateri Parish at Christ the King Church for the celebration of her Funeral Mass. In lieu of flowers, donations in her memory may be made to St. Jude Children's Hospital. Interment Irondequoit Cemetery.