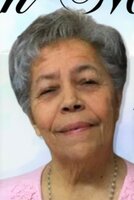 Belen Colon
Belen Colon
Rochester: Passed away peacefully on November 12, 2022, at age 84. Predeceased by siblings, Juan Santiago, Felipe Colon, Ezequiel Colon, Aurea Santiago, and Pedro Santiago. Survived by children, Gabriel (Rachel) Vazquez, Mateo (Bonnie) Vazquez, Mercedes Vazquez-Simmons, Borgen Vargas, Norma Diamond, Abigail Gonzalez, Rosin Rivera, Devon Vazquez; Grandchildren, Bristol (LaTarsha) Rollins, Brittany (Roland) Young, Raquel Vazquez, Alexis (Nicole) Vazquez, Jesenia (Luke) Curley, Taylor (Alyssa) Simmons, Jennifer (Mark) Simmons, Tiffany Diamond, Mariela (Josh) McGinnis, David (Vivian) Reyes, and Jordan Miller; Great-grandchildren, Laila, Leland, Lydia, Roland, Nico, Mila, Oliver, Tahlia, Elena, Lukas, and Celia; Also many nieces, nephews, and friends.
Belen was known as the mayor of Clinton Avenue, always advocating for the community, and fighting for human rights.
UPDATED SERVICE INFORMATION BELOW
Calling hours on Saturday, November 19, from 10am-12:30pm AND Funeral Mass to follow, at 1pm, both at St. Michael's Church 859 N. Clinton Ave Rochester 14605. In lieu of flowers, donations may be made in her memory to Latino Youth Development (980 N. Clinton Ave. Rochester, NY 14621) and Resource Center or Friends of St. Michael's. Interment in Puerto Rico.