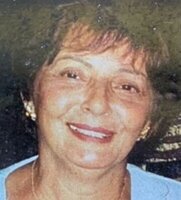 Jacqueline M. Volo
Jacqueline M. Volo
Webster - April 11, 1938-November 18, 2021.
Predeceased by her loving husband of 60 years Charles and her brother Clement Sanza.
Survived by her children Gary (Jane), Steven (Corrine), and Brian (Anne) Volo; Grandchildren Matthew (Ellen), Elizabeth (Ben), Nick (Sara), Adam (Alesha), Jennifer (Anthony), Timothy, Alex (Morgan), and Samantha; Great-grandchildren Madeline, Evelyn, and Sophia, her sisters in law, Nancy Sanza and Noreen Bradstreet. Please join the family MONDAY December 6, 2021 at 10:30 am in St. Rita's Church for the celebration of her Funeral Mass.