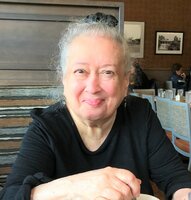 Kathleen J. Ferra
Kathleen J. Ferra
Greece: September 28, 2021. Predeceased by her husband Thomas and grandchild Ashley.
Survived by her children Jeannine(Ron)Charles, Thomas, Frank (Karla) & Brenda Ferra, Karen (James) Reynolds; Grandchildren Jennifer, Anthony, Marina, Charles Jr., Jani, Rene, Tom Jr., Lindsay, Suzie, Nancy, Jake, Samantha, Jessica & Erica; 16 great grandchildren
Calling hours on Friday October 1, from 4-7 PM at Falvo Funeral Home 1295 Fairport Nine Mile Pt. Rd. (Rte. 250) Webster, NY. Services and interment private.
In lieu of flowers donations can be made to the Pluto Cancer Center in her memory.