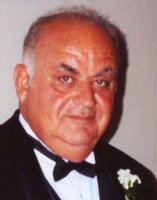 Luigi Giorgione
Luigi "Gino" Giorgione
Churchville: February 20, 1940-May 30, 2021. Predeceased by his wife, Angela, parents Adelina & Giuseppe and brothers Cosimo & Pietro. Survived by his wife Maria and his children Adelina (Ed) Davin, Joe (Maureen), Luigino & Maria (Jay); grandchildren Bill (Fiancée Amanda), Gina (Adrian), Mason, Angela, Nina & Dominic; brother, Antonio; sisters Maria (Guiseppe) Commisso, Bianca Gutta, Ada Carteri & Franca Sirigu; many nieces and nephews.
Luigi grew up on a small family farm in Calabria, Italy with his 7 siblings. After serving in The Italian Navy, which he said were some of the best days of his life, he married his first wife, Angela, and came to America to start their life together and had two children. During the next few years, he helped bring his whole family to Rochester. Luigi learned the Masonry trade and with hard work and determination he soon had his American dream, his own business. His life's work can be seen in the brick & stonework of many buildings and homes locally. After his wife passed, he was devastated but with strength and determination he started over. He met Maria and they started a new life together. They had a wonderful 46-year marriage raising four children and six grandchildren. He enjoyed spending time with his family, deer hunting at his Naples property, making wine, gardening, planting trees, real estate auctions and investing in property. Gardening was one of his favorite pastimes and he always made the garden way too big. He and Maria enjoyed their retirement together, spending winters in Spring Hill, Florida and summers with family at home. Luigi always did what he loved. Above all, he proudly took care of his family, which he loved the most. A truly blessed life.
Calling hours Tuesday, June 8, 2021, 4-7 pm at Falvo Funeral Home 1295 Fairport Nine Mile Pt. Rd. (Rte. 250) Webster. Please meet the family on Wednesday, June 9, 2021,10 am at St. Vincent DePaul Church (99 Main Street Churchville, NY 14428). Those wishing may donate to American Heart Association. Entombment Holy Sepulchre.