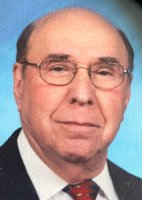 Anthony S. Caliri Sr.
Anthony S. Caliri Sr.
Irondequoit: April 24, 2021 at age 104.
Predeceased by his wife Sophie (LaMartina) Caliri. Survived by his children Linda (Otto) Zettl-Caliri, Barbara Baur-Caliri, Dennis (Suzetta) & Anthony S. Caliri Jr.; grandchildren Mark (Tracy) & Paul (Rolando Navea) Zettl, Michelle (Max) Gohringer, Eric & Daniel Baur and Jason (Kerry) Caliri & Joseph (Carrie Davis) Caliri; 11 great-grandchildren; nieces and nephews.
Calling Monday 4-8 pm at Falvo Funeral Home 1295 Fairport Nine Mile Pt. Rd. (Rte.250) Webster. Please join the family Tuesday 10 am in St. Kateri Parish at Christ the King Church for a celebration of his Funeral Mass. Interment Holy Sepulchre Cemetery.