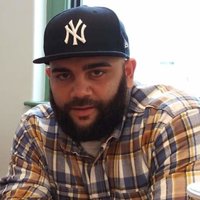 Jovanni J. Muniz
Rochester, NY. Jovanni J Muniz age 26 of Rochester passed away Tuesday morning April 6th, 2021 peacefully in his sleep.
He was born March 6th, 1995 in Rochester, NY. Jovanni was a loving son, uncle and brother. He is survived by his parents, Tina Matos (El Matos) and Jose Muniz
(Nicole Lynn); his sisters, Jazmin and Jessica and his niece and nephews Luna, Pooka, Prynce and Mateo. He is also survived by his grandparents, aunts, uncles and large extended family.
Jovanni was a very caring person, who wore his heart on his sleeve. He was loved by many. Family was the most important thing to him. He loved camping, fishing, and all things outdoors. Despite his struggles with addiction, he fought hard to remain clean and establish a relationship with God.
Calling Hours Friday April 9th from 3-8 PM with his funeral Saturday April 10th at 11 AM BOTH at Falvo Funeral Home 1395 N Goodman St. Rochester, NY 14609. Interment Holy Sepulchre Cemetery.