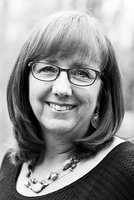 Kimberly Ann Meisenzahl
On Thursday, April 1, 2021, Kimberly Ann (Graupman) Meisenzahl, loving wife and mother of two children, passed away at age 57 after a courageous battle with cancer.
Kim was born on July 17, 1963 in Rochester, NY to David and Eileen (Simpson) Graupman and graduated from Alfred State College with an AAS degree in Executive Secretarial Science. She was employed by the Wayne Central School District in Ontario, NY for the last 16 years. On October 11, 1986, she married Eric Meisenzahl and adopted two children.
Her children were her greatest pride and joy in life, and she made the world around her more beautiful for everyone. Whether it was decorating her home or tending gardens, she always had a festive touch and positive spirit to go along with it. She saw the world in a brighter light, capturing it with her love of photography. She enjoyed the simplicities of life like sunshine, the lake, and entertaining people. Her life's fulfillment came from her family and friends who she always thought of before herself.
Kim is survived by her husband Eric, her two children Jillian and Gregory, parents David and Eileen (Simpson) Graupman, parents-in-law Peter and Annette Meisenzahl, sister David and Colleen (Graupman) Turpyn, brother-in-law Peter Meisenzahl, sister-in-law Lynn Meisenzahl, several aunts, uncles, cousins and one niece and nephew. Calling hours will be held Saturday, April 17th, 2021 at Falvo Funeral Home located at 1295 Fairport Nine Mile Point Rd, Webster, NY from 1-4pm followed by a private family service. Donations, in lieu of flowers, may be made to the National Ovarian Cancer Coalition.