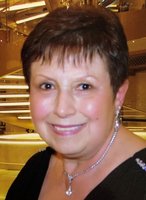 Gail M. DeCaro
Gail Marie (Quattrocchi) DeCaro, was born on June 9, 1943 in Rochester, NY. She passed away peacefully on Saturday, March 27, 2021, in her home surrounded by her family. She is predeceased by her parents Josephine and Dominic Quattrocchi. She is survived by, her loving daughters, Judy (Ron) Mancini and Therese (Vincent) Cavuoto; grandchildren Jenna and Anna Cavuoto and Anthony Mancini; her beloved sister Judy (Bill) Davis; several nieces, nephews, and cousins; sister-in-law Lucille Rinere; aunt Tina Quattrocchi; former spouse and father of her daughters, Ralph DeCaro; longtime companion Daniel Davis and her beloved dog, Molly.
She was a kind, caring, and loving woman to all who knew her. Her compassion and devotion to her faith and family is part of the legacy she leaves behind. She worked for the City of Rochester and later became a hairdresser. Gail finished her career as a notetaker for Monroe #1 BOCES. She gave countless hours volunteering at Cherry Ridge and Webster Public Library. Her devotion to her grandchildren while they attended St. Joseph's School was one of her richest blessings as she gifted them with her wisdom and love contributing to who they are today. Gail also enjoyed socializing with her many friends and playing BINGO at Cobblestone Place. She always lived her life to the fullest.
Visitation services will be held on Monday, April 5, 2021 at Falvo Funeral Home at 1295 Fairport Nine Mile Point Road in Webster, NY from 4pm to 8pm. The funeral mass will be held on Tuesday, April 6, 2021 at 10:30am at St. Joseph's Church, 43 Gebhardt Rd Penfield, NY. The funeral mass will also be live streamed at www.holyspirit-saintjoseph.org. Interment will be private. In lieu of flowers, please consider a donation to Webster Comfort Care at webstercomfortcare.org, American Cancer Society at https://www.cancer.org, or Penfield Hope at 41 Gebhardt Rd, Penfield NY 14526.
The family wishes to extend a heartfelt thanks to URMC Hospice team and Karen Martz for her loving care and endless hours devoted to Gail and her family. Their kindness and compassion shown along with the support and love from family and friends carried her family through this journey.