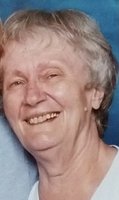 Joanna Piddington
Our mom, Joanna Piddington passed away peacefully surrounded by her loving family on Wednesday March 24, 2021. She was preceded in death by our dad, Donald Piddington who passed away three weeks earlier. She is also preceded in death by her parents Horace and Ester Cardiff. Joanna was born October 24, 1935 and grew up in the Rochester NY.
Joanna met our dad at Lightnin Mixers, where she worked in the office area handling various tasks. After they met, they soon fell in love, got married, and spent the next 64 years together, now they are united in heaven.
Joanna would dedicate many years to raising her three boys, Patrick, Michael and William before returning to the working world. While raising her family, she took care of our farm animals of horses, cows, chickens, ducks, cats and dogs. She was also very talented and creative with various arts and craftsmaking.
Her favorite parrot, Pete kept her busy in her later years. Pete would often mimic her voice often fooling other family members that it was Joanna calling for dad when it was the Pete the parrot doing the talking.
Joanna is survived by her brother Charles Cardiff of Fairfax VA., Joanna's children Patrick (Loren Cadena) of Atlanta GA., Michael (Tracy Poling) of Toledo OH., William Piddington of Rochester NY.
Grandchildren Nicole (David Galloway), Nora & Ian Piddington & Kathryn (Stephen Lott), Matthew Piddington, Torrie (Doug Vileria), Brittnie (Mike Heberle), 6 great grandchildren, and many nieces and nephews. Special thanks to Brittnie and her mom Kim & Torrie who assisted our family in a great time of need.
A private celebration of life will be held at a future date. Family also would like to thank Hospice who gave our mom the best care at the end of her journey. In Lieu of flowers donations canbe made to the University of Rochester hospice centers.