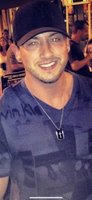 Jerry A Colbert
Colbert, Jerry

Webster: Jerry Colbert, 32 of Webster, NY tragically passed away Monday, August 24, a victim of depression. Jerry was born on March 14, 1988 to loving parents Peggy Colbert and Barry Peets.

Jerry cherished quality time with the people he loved. It was during these intimate settings with friends and family that his sensitive, caring, loving personality shined. A child at heart, Jerry saw the wonder in the world. He was a free spirit, passionate about skateboarding, fishing, fast cars, and physical fitness. When Jerry was not at home you could find him practicing his trademark hard flip at Scuff Skates or fishing for pike and catfish at Turning Point Park.

Jerry is survived by his mother Peggy Colbert, Father Barry Peets, Step Mother Pamela Peets, his brothers Shane Colbert, Eric Neels, Michael Peets, and Marcus Hughs, Aunt Shirley Mitchell and Uncle Joe Colbert. He will be especially missed by his cousins additional aunts and uncles, nieces, nephews, and friends. Jerry was predeceased by his grandparents Joseph and Josephine Colbert and Harold and Eva Peets.

A wake is planned to celebrate Jerry's wonderful spirit for Wednesday September 2, from 4-7PM at Falvo Funeral Home, 1295 Fairport Nine Mile Point Rd., Webster.
Graveside service Friday 10 AM at Webster Union Cemetery
A celebration of Jerry's life will be held on Friday September 4, at Lake Rd. Webster Park, Pavilion Lakeview #1. Starting @ 11:00am.

In lieu of flowers donations will be accepted towards Jerry's memorial at http://gf.me/u/yt66rd

For all of Jerry's friends and family, take this time to love one another, take care of each other, and let God's power do the rest.