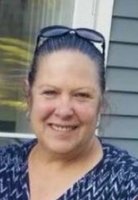 Cheryl T. Mann
Cheryl Mann, 62, of Rochester died June 25th, 2020
Suddenly after a brief illness. Cheryl was predeceased by her parents Fredrick and Phyllis Ritchie, sister Diana Ritchie and son-in-law Jonathan Rivera. Survived by her brother Michael Ritchie. Cheryl was the proud mother of two children: Reanna (the late Jonathan) Rivera and Melissa Mann (Eduardo Rios). She was a second mother to Melvin and Crystal Rivera and many more. She was a proud grandmother of 5 grandchildren and many others she considered her own: Julianna, Jonathan (Bubby),Janessa,and Jacob Rivera, Justin Mann, Lil Melvin and Jaelynn Rivera,Jadiel Rivera, Aidyn Ocasio and Korie Spirito.Cheryl's greatest love and passion was her family. She enjoyed swimming, gardening, coloring, and drawing.
While Cheryl's family grieves her loss, her children, grandchildren, and close loved ones invite you to join them in honoring her spirit at:
Calling hours will be held at Falvo Funeral home from 4 to 7 PM on Tuesday, June 30th.
Funeral services will be held at Saint Francis Cabrini at Our Lady of the Americas Church at 10:00 AM on Wednesday July 1st.