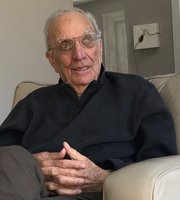 Mario Piane
Mario Piane
Fairport, NY – June 7, 2020, Age 86.
Predeceased by beloved wife Marigrace, parents Domenico and Erminia, sister Ida Bruno, brother-in-law Gabriele Bruno, brother Antonio Piane, sister in-law Maria Piane, and brother-in-law Joseph Marasco. Survived by son Gian-Paul (Becky Cokelet), sister Lidia Piane, brother Franco (Maria Rita) Piane, sister-in-law Maryann Marasco, cousins, nieces, nephews, dear friends and family.
Mario was born in Piane Crati, Cosenza, Calabria, Italy June 21, 1933 to Domenico and Erminia Piane. Mario met Marigrace Marasco when she visited family in a neighboring town, and eventually moved to the US to join her in 1964. They married soon after, and made their home in Fairport for the rest of their days. They were blessed with wonderful neighbors and friends, and in recent years, Mario especially cherished his young neighbors Meghan and Elizabeth.
Mario earned an engineering degree and was proud to join his father in a design and construction firm, building bridges, roads, homes, churches and other concrete structures, and continued to work in the construction field after he arrived in the US. He spent the majority of his working days as a construction superintendent for several local companies and, after an extremely brief retirement 20 years ago, as a construction administrator with several local school districts. Mario thrived on the jobsite, and was relentlessly active until early this year. He demanded the highest level of effort and integrity of everyone, especially of himself, and mentored anyone who was interested. Mario collected many cherished colleagues and friends, and was grateful for them all.
When not at work, Mario never stopped moving. He renovated, built and re-engineered everywhere he went, 24/7/365. Gian-Paul was at his side through endless work and home projects, and absorbed more than he could have ever realized. Mario and Marigrace enjoyed gardening, baking, cooking and of course winemaking. They were happiest when sharing homemade meals and wine with family and friends.
Mario missed Marigrace terribly, and the family takes comfort in knowing how deeply he believed that he would be reunited with her again. He will be missed, but know that his life was very full and very blessed.
A special thank you to his wonderful aides through Home Instead, and to his beloved and compassionate medical teams at Dr. Edith Dale's and Dr. Sheema Chawla's offices.
A Memorial Mass and celebration of his life will be held Monday June 7, 2021, 10:00 AM at St. John of Rochester Church . In lieu of flowers, please consider a donation to Advent House, 1010 Moseley Rd, Fairport, NY 14450.