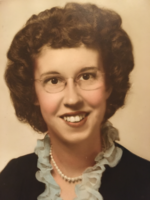 Gladys Kelly
Gladys Augusta "Glad" Crosby Kelly: Webster, New York
Peacefully passed away on February 7, 2020- 94 years young
Gladys was born in Greece, New York to William & Marguerite Crosby on November 5, 1925.
Gladys graduated from Spencerport High School in 1941 (Mom graduated early as she skipped 2 grades). She continued her education at Rochester Institute of Technology and earned a Bachelor Degree in Business.
Gladys worked as a Medical Secretary for Dr. Sanders in Greece, New York for many years. She went on to work as an Executive Secretary for Xerox Corporation in Webster, New York and in Fremont, California.
Gladys was preceded in death by her husband, Patrick Joseph Kelly and son, Patrick Joseph Kelly II (survived by wife, Kari Booth Kelly).
Gladys is survived by her 4 daughters, Michelle Lewandowski (husband, Don); Colleen Wightman (husband, Gary); Kathleen Nuccitelli (husband, Michael); Mary Robinson
Gladys was very proud of her 12 grandchildren, Kelly Lewandowski Rodriguez (husband, Ricky), Katherine Lewandowski Messina (husband, Jason), Patrick Kelly (wife, Renee), John Wightman, Matthew Wightman, Ashley Johns Skipper (husband, Chris), Gina Nuccitelli Gabriele (husband, John), Michael Nuccitelli, Nicole Robinson, Eddie Robinson, Sammy Robinson, Patrick Joseph Kelly III
Also, Gladys was thrilled to be a Great-Grandmother to RJ & Jaxon Rodriguez and Kaden Messina.
Gladys was an avid reader, loved hanging out with her longtime friend Louise Cleary (Weez), loved bowling with the Foxy Grandmas, driving her red sports car out to Fingerlakes Gaming (to hit the slots), doing breakfast or lunch with her friends, enjoying cream filled candies or, well, anything "chocolate", having her daily doughnut and scratching lottery tickets. Most of all, Gladys loved the time she spent with her children, grandchildren and great- grandchildren.
Funeral / Celebration of Life will be held at St. Rita's Catholic Church April 24th at 11:15 A.M.
In lieu of flowers, Gladys would love you to support the Patrick J. Kelly II Memorial Foundation https://docs.google.com/document/d/13S2qGNoePqwIWMBdrOQ7Lw6BHxYgYfTgechNvgGwc3c/edit?usp=drive_web Shortly after her son passed, Gladys decided to start a college scholarship in his name. She was told it would take years, corporate sponsors and deep pocket donors to achieve this. Being Gladys, she politely smiled, thanked them, went home, picked up a pen and started handwriting letters to everyone she knew! She shared that together we could provide an opportunity to students that emulated Student Leadership, Community Service, Academic Excellence, Involvement in Athletics and School Sponsored Events, just like her son did. For the last 16 years, her foundation has provided a Scholarship for 1 male and 1 female student every year at Webster Thomas High School.
Gladys, you continue to make dreams come true.