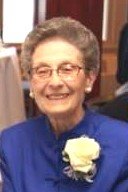 Jean Lembo
Jean Lembo

Penfield - July 11, 1928 - October 27, 2019

Jean (Johanna Salina) Lembo passed away peacefully on October 27, 2019 at the age of 91 years. She joins her husband Charles, son Martin and grandson Christopher in heaven. Survived by son Charles and his wife Michele, son Richard and his wife Patty and daughter in law Cyndi. Her loving grandchildren Nicole Dumas (Ryan), Richard (Alyssa), Bryan (Toni Ventrilla), Erica (Mike Ross), Meli Sher (Jared), Zach Milligan (Amanda) and Amie Graf (Lou) will cherish fond memories of their times together. Jean's love of her great grandchildren Jacob, Luke and Eli Dumas-were evident every time she saw them. A special aunt to Amy Lembo and Cynthia Zalewsky. Family meant the world to Jean; we will miss her smile and her ability to make us all remember the value of being a Lembo.

Calling hours Friday 4-7 pm at Falvo Funeral Home, 1295 Fairport Nine Mile Pt. Rd. (Rte.250) Webster. Please join the family Saturday 11 am at St. Kateri Parish at St. Cecilia's Church for a celebration of her funeral mass. Interment Irondequoit Cemetery. Donations in lieu of flowers may be made to Lifetime Care Hospice (3111 Winton Road South Rochester, NY 14623).