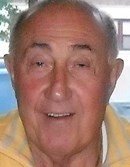 Henry Vinciguerra
Henry A. Vinciguerra

Irondequoit - Oct. 25, 2019, age 86. Predeceased by his sister, Agnes Militello and his brothers, Joseph and John Vinciguerra. Survived by his wife, Irene (Marcus) Vinciguerra; his children, Andrew, Linda, Joseph and Maria Vinciguerra; grandchildren, Weston, Bryce, Jared and Josh; his brother, Philip (Phyllis) Vinciguerra; sister-in-law, Madeline Vinciguerra; special niece, Laura Militello; also many other loving nieces and nephews. He was a U. S. Army Korean War Veteran.

Calling FRIDAY 4-7 PM. Funeral Saturday 10 AM both at Falvo Funeral Home, 1395 N. Goodman St. Interment Holy Sepulchre.