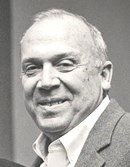 Brian W. Haas
Brian William Haas

Webster - Brian William Haas, a lifelong Webster resident, passed away on Sunday September 1, 2019 in his home surrounded by loved ones.

Brian was born to William and Mary Haas on February 21, 1961. He went to Bishop Kearney High School where he excelled in athletics and was named All City Catholic for football.

Brian was a Licensed Master Electrician and the President/Owner of Connors-Haas Inc. His father started the company in 1966 and it became Brian's life's work as well. He worked his way up, becoming President and sole owner in 2002. Brian served as President of the Rochester, NY NECA chapter.

Brian was an avid boater and participated in the 1000 Islands Poker Runs with long-time friends since 1999. He and his crew have won first place at two PRA events, the Alexandria Bay Poker Run in 2005 and the Kingston 1000 Islands Poker Run in 2009. He also enjoyed fishing, restoring antiques and spending time with his family and many friends.

Brian is survived by his parents, William and Mary Haas of Webster, sisters, Karen and husband Tom, their children, Ryan, Thomas and Natalie Wight, also of Webster, NY, Linda and husband, David and their children Jordan and Catherine Ayer of Weston, MA, and beloved aunts, uncle and cousins.

Visitation will be Thursday, 3 - 7 pm at Falvo Funeral Home 1295 Fairport Nine Mile Point Rd (Rte250), Webster.

Funeral services will be Friday 9:15 am at St. Rita Roman Catholic Church 1008 Maple Drive, Webster. Interment will immediately follow at Holy Sepulchre Cemetery.

In lieu of flowers, please make donations in memory of Brian Haas, to the Multiple Myeloma Research Foundation, PO Box 414238, Boston, MA 02241-4238. https://tribute.themmrf.org/brianhaas

The family wishes to extend their deepest gratitude to the wonderful doctors and staff at The Lipson Cancer Institute and The Multiple Myeloma Program at The Dana Farber Cancer Institute.