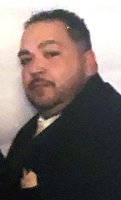 Arlie Aponte
Arlie Aponte:
Rochester: July 24, 2019.
Survived by his parents, Jose And Marcia Aponte; brothers, José M. (Michelle) Aponte & Jomar (Peggy) Aponte; fiancé Melinda Calixto; son Jesse Wolf-Gould; stepdaughter Kiana J. Luciano; nieces and nephews Antonio M. Aponte, Alexa M. Aponte, Joseph V. Aponte, Adelina R. Aponte, Lucas D. Aponte and many friends.
Calling hours Friday 4-8 pm and funeral service Saturday 10:30 am both at Falvo Funeral Home, 1395 N. Goodman St.Rochester, NY 14609.