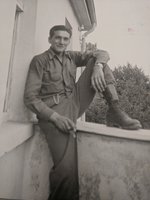 Christopher Gagliano
Christopher Gagliano

Rochester: Passed away peacefully on July 23, 2019. Predeceased by his loving wife Antoinette "Toni", sister Rose Gagliano, brother Samuel Gagliano, brother-in-law Kenneth Naeye and daughter-in-law Donna Gagliano.
Survived by his children Christopher (Terri) Gagliano of Texas, James (Brenda) Gagliano and Patricia (Amy) Minnick; grandchildren Jason (Zeynia) Gagliano, Krista (Marlin) Myers, Julie(Dan) Davis, Courtney (Aaron) Cooley, Dylan (Dea) Minnick, Jonathan Gagliano, Andrew Gagliano, David (Melissa) Gagliano, Bryana Minnick, Jessica Gagliano and Jeyna (Kyle) Fenton; great-grandchildren Kayla, Antonio, Alyanna, Nathaniel, Nicholas, Quinn, Grayson, Charlotte, Calvin, Ciara and Rowan; his siblings Josephine Naeye, Anna (Al) Santillo, Thomas (Sue) Gagliano and sister-in-law Antoinette Gagliano. Also many nieces, nephews, great-nieces and great-nephews.
Christopher was a World War II Veteran serving with an Honorable Discharge on June 21, 1946. He served as a Private in Infantry, Field Lineman and Cannoneer then promoted to a Sergeant to serve as a Radio Repairman and Truck Driver. He was a life member of Post 6778, the American Legion Post 100 and life member of the Fraternal Order of Eagles Aerie 52.
Christopher worked on his dad's farm, for the Mott's Canning Factory in Wayne County, his brother-in-law's Western Union Store in Carbondale, PA and ending his work career at Rochester Management as a groundskeeper promoted to an apartment manger to superintendent overseeing all of Rochester Management properties. He retired in 1988.
We would also like to acknowledge and thank Vicki and Bill of Fleming Point for making our dad's new residence not only a place to live but a home and also Twanna and T's Angels for taking care of dad and brightening his days.
Calling hours will be on Tuesday July July 30th from 4PM - 7PM with a funeral service on Wednesday July 31st at 10AM BOTH at Falvo Funeral Home 1395 N Goodman St. Rochester NY 14609. Entombment Holy Sepulchre Cemetery.
Please omit flowers. Donations in Christopher's memory may be made to the Alzheimer's Association (435 E Henrietta Rd, Rochester, NY 14620) or American Heart Association (25 Circle St, Rochester, NY 14607).