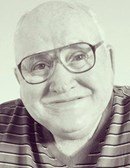 Joseph Fingland
Joseph D. Fingland

Rochester - March 09, 2019 at age 82.

Predeceased by his wife Marylou (Gombatto) Fingland. Survived by his daughter Debra (Todd) Amato; grandchildren Amber (Nick) Mastrofilippo, Justin (Brittney) Amato; great-grandchildren Braiden Amato & Castiel Amato; his sister Barbara of CA; brother-in-law & sisters-in-law Jerry (Linda) Gombatto, Annette Vincent, Glenna Gombatto; many nieces and nephews.

Calling hours Friday 4-7 pm at Falvo Funeral Home, 1395 N. Goodman St. Please meet the family Saturday 9:30 am at Peace of Christ Parish at St. James Church (130 Brett Road, Rochester, NY) for a celebration of his funeral mass.

Donations in lieu of flowers may be made to Mesothelioma Research Foundation Of America (3011 Townsgate Rd #450, Westlake Village, CA 91361).