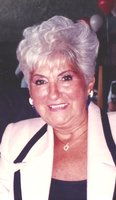 Rose J. DiProjetto
Rose J. DiProjetto (Bisbano)

Rochester - Nov. 27, 2018 age 93. Predeceased by her husband, Joseph; her son, Samuel and her 3 brothers and 3 sisters. Survived by her children, Carl (Pauline) DiProjetto of Nashville, TN, Rosalie (Louis) Alaimo; daughter-in-law, Susan DiProjetto; 5 grandchildren; 10 great-grandchildren; brother and sisters, Peter Bisbano, Marge (Donald) Brumleve, Josephine LaRocca; also many nieces and nephews.

The family would like to extend their thanks to Ace Unit at Highland Hospital, and to the staff at Cottage 2, 3rd Floor of the Jewish Home for the excellent and compassionate care shown to Rose.

No prior calling hours. Rose's Funeral Mass will be celebrated FRIDAY, November 30, 2018 at 10AM in Peace of Christ at St. Ambrose Church, (Empire Blvd. at Culver Rd.). In lieu of flowers donations may be made to the Jewish Senior Life Foundation, 2021 S. Winton Rd., Rochester, NY 14618. Interment Holy Sepulchre Cemetery.