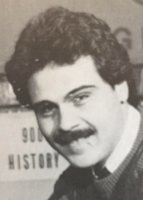 Dominic J. Bona
Dominic J. Bona
Penfield: April 3. 2018 age 63. Predeceased by his parents Gasper & Serena Bona. Survived by his loving wife Victoria, daughters; Lauren & Kristen (Jake Spalik), brother; Frank J. (Lorraine) Bona, aunts, uncles, nieces, nephews, cousins and friends.
Dominic was a beloved administrator with the Rochester City School District for 35 years. He started his career as a Social Studies teacher at Franklin High School. He taught for 12 years and then became a house administrator, Vice Principal, and then Principal. Due to Dominic's tremendous hard work and dedication, he was asked to become a District Managing Principal for the Rochester City School District, which is where he ended his career. He touched many people and changed so many lives. The amount of love and empathy he had for working with kids was evident from the dedication and passion that he exhibited throughout his career. Dominic would go above and beyond to help others and he was seen as a mentor to many of his students and colleagues. On top of being an exceptional administrator, Dominic was a true family man and always put his wife and daughters first. He devoted his life to his family and created special memories for all. Dominic was a bright, warm, and kind soul who lit up the room and became the voice of reason for others. His legacy and love will live on and continue to be felt by many. Dominic will be dearly missed.
Calling hours Friday 3-8 PM at Falvo Funeral Home, 1295 Fairport Nine Mile Pt. Rd. (Rte. 250) Webster. His funeral will be Saturday 12 Noon at St. Joseph's Church. Interment private. In lieu of flowers donations may be made to St. Jude's Children's Hospital.