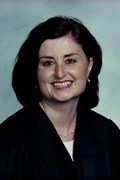 Hon. Elma Ann Bellini
Hon. Elma Ann Bellini

Webster - March 04, 2018 at the age of 63. Predeceased by her parents Philip and Patricia Bellini. Survived by her beloved husband of 20 years Jim Stevenson and their daughters Danielle & Katie Bellini; stepsons Brendan & Kevin Stevenson; grandchildren Jack & Noelle Stevenson; her sister Tina (Jeff) Lookup, also many brothers-in-law, sisters-in law, nieces, nephews other relatives and friends.

Judge Bellini graduated from MCC, SUNY Brockport, and the Syracuse University School of Law. She was a practicing lawyer for 14 years, then she was elected to Monroe County Court in 2000, and the New York State Supreme Court in 2008. Elma loved family and friends, Italian cooking, Pittsburgh Steelers, a good pair of shoes, everything about Christmas, York Shire Terriers, going to a beach, shopping with sister and daughters, and making people feel welcome.

Calling hours Wed & Thur 4-8 PM at Falvo Funeral Home, 1295 Fairport Nine Mile Pt. Rd. (Rte. 250) Webster. On Friday family and friends are asked to go directly to St. Rita's Church (1008 Maple Ave, Webster) for the celebration of her funeral mass at 11:15 AM. In lieu of flowers donations may be made to Camp Good Days & Special Times. Interment White Haven Memorial Park.