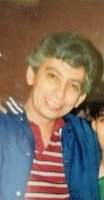 Monserrate Caraballo Jr.
Monserrate Caraballo Jr.

Irondequoit - February 6, 2018. Predeceased by his mother, Juana Santiago; father, Monserrate Caraballo Sr.; son, Lee Caraballo; and sister, Juanita Alvarado. Survived by 2 sisters, 4 brothers and many family and friends.

Calling hours, Friday 5-8 at Falvo Funeral Home, 1395 N. Goodman St. Funeral Services and Interment will be private.