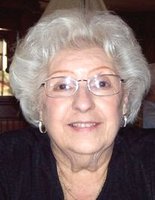 Libbie Bonadonna
Libbie Bonadonna

Webster - Feb. 4, 2018, age 89. Survived by her husband of 68 years Joseph A. Bonadonna; children Gary J. (Carol), Thomas J. & Diane (Dennis Wolf) Bonadonna; grandchildren Gary Jr. Kimberly and Jennifer Bonadonna; sister Josephine Speciale; brother John Cannarozzo; many nieces, nephews, cousins & friends.

Calling hours Thursday 5-8 at Falvo Funeral Home, 1295 Fairport Nine Mile Pt. Rd. (Rte. 250) Webster. Please join the family 11AM Friday, Holy Spirit Church (Hatch Road at Plank) for her Funeral Mass.

Entombment Holy Sepulchre Cemetery.

A special thank you to staff and caregivers at Penfield Place, especially Attira Moore & Kathy Hamilton for their care and kindness.