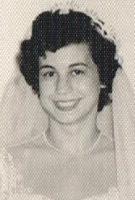 Norma Romeo (Markajani)
Romeo, Norma Ann (Markajani)
Irondequoit:
April 9, 2017.
Predeceased by brothers William & Albert Markajani.
Survived by her husband of 65 years, Peter J. Romeo, daughter Linda (Donald) Halter, son Paul W. (Kimie) Romeo, granddaughters Lindsay (Jamie) Nesbitt, Ashley (Morgan) Gabriel, Jamie Romeo, Teri (Eli) Hills & Kelly (Jon Zeiner) Romeo, several great-grandchildren, sister-in-law Yolanda Markajani, cousin Louise Pisaro, nieces and nephews.
No prior calling. Family and friends are invited to attend her funeral mass 10 AM Wed. at St. Frances Xavier Cabrini Parish @ Annunciation Church, 1754 Norton St.
Donations in lieu of flowers may be made to Golisano Children's Hospital.
Interment Holy Sepulchre